Saturday, November 5th, 2011
Ticket prices will double as the event gets closer!
This event sells out every year!
ONLY A FEW RESERVED SEATS LEFT.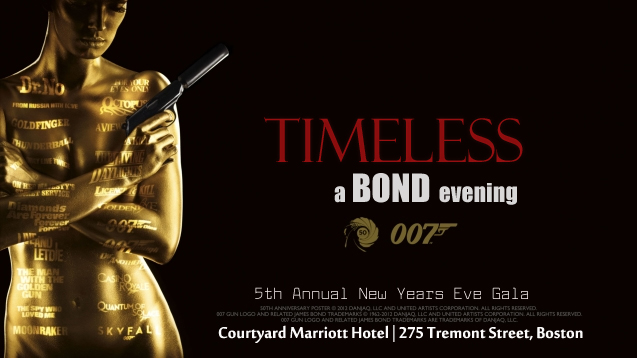 __________________________________________________________________________________
After the overwhelming success of 4 years of sold out NYE parties, The SYNERGY Evnets New Years Eve party 2014 – we host one of the most upscale events in Boston that you can't miss. This December 31, SYNERGY Events cordially invites you to Timeless: A BOND Evening – Boston's most exclusive New Years Eve Gala.
For the vogue and refined, this celebration will immerse you in an "Old Hollywood" James Bond theme, with red carpet, decor, music, signature cocktails, professional photographers and live entertainment.
Its not just another party, its an experience…
♣♣ OFFICIAL WEBSITE:
http://www.BostonNewYearsEveParty.com
♣♣ BOND GIRL CONTEST 2013:
♣♣ HIGHLIGHTS:
- Join us at one of the best hotels located in the smack of everything – Marriott Courtyard Downtown at 275 Tremont Street, Boston MA
- Meet Boston's friendly, fun, attractive and upscale crowd (21-39 age group)
- Hosted by Miss USA title holders.
- DJ Stacks and SYNERGY DJ spinning Pop, Euro House, Arabic House, Top 40′s mash up and Hip-Hop. Say no to 30-second DJs playing the same old songs from the radio!! Please check below to hear some of the music you will get to hear at the event.
- Professional photographers to capture your best moments throughout the night and on the red carpet
- An exclusive VIP bar for VIP ticket holders
- Early admission starting at 8:30 PM for an exclusive VIP hors dourves reception for VIP Ticket and Table holders.
- Live projection of midnight countdown from Times Square
- Outstanding decor, lights and sound
- Prizes awarded to the best James Bond look alike and female spy
- Complimentary party favors
- Many other surprises and giveaways in store
This year surround yourself with opulence and splendor of TIMELESS 2013, the one and only event that will stand out from the rest of the "New Years Eve Parties" in Boston.
♣♣ EXQUISITE APPETIZERS for VIPs and Table Holders (menu subject to change):
• International Variety of Select Cheeses to Include Vermont Cheddar, Swiss, Provolone & Boursin served with Assorted Crackers & Sliced Baguettes
• Mediterranean Antipasto Display : Olives, Grilled Asparagus, Grilled Artichokes, Marinated Mushrooms, Roasted Peppers, Hummus, Tabouli, Lavosh & Pita
• Vegetable Crudites
• Seasonal Fresh Vegetables Served with Assorted Dips
• Mini Italian Pastries
• Lobster Cobbler
• Breaded Stuffed Artichoke Hearts
• Santa Fe Spring Rolls, Chicken, Tomatoes Cilantro & Jaiepeno
Our Contest is now Live. Vote Now!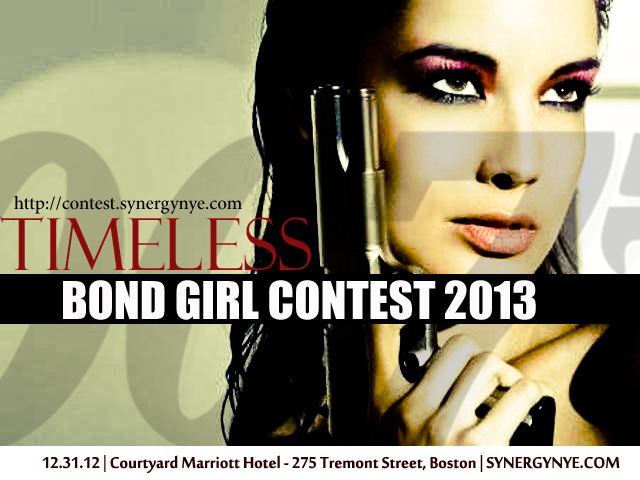 Discounted Hotel Room:
Discounted hotel rooms for VIP table holders are available at $149 + Tax (must be booked by Dec 10, 2012). After you have purchased your VIP table, please email us at contact(at)theSYNERGYevents.com with your ticket information and we will help to book your discounted rooms.
♣♣ CHARITY: A portion of the event profit will benefit The Home for Little Wanderers (www.thehome.org) that services to thousands of children and families each year.

♣♣ Tickets:
General Admission Ticket
Admission to the Event. Midnight champagne toast for the first 100 guests at the event. Admission granted after 10:30 PM only.
VIP Ticket
Early admission starting at 8:30 PM for an exclusive VIP hors dourves reception (menu coming soon!). Access to the exclusive VIP area, Party with our models, VIPs and media. Gift bags (worth over $100) for the first 50 guests at the event. Midnight Champagne toast for all VIPs. Specialty dessert served after Midnight.
Reserved Seating for 4 – General Admin Area (BEST VALUE)
Early admission starting at 8:30 PM for an exclusive VIP hors dourves reception (menu coming soon!). 4 Guests in the General Admission area (seated), Complimentary appetizers, Midnight Champagne toast.
Reserved Seating for 4 – VIP Area
Early admission starting at 8:30 PM for an exclusive VIP hors dourves reception (menu coming soon!). 4 Guest Access to the exclusive VIP area, (seated). Party with our models, Party with our models, VIPs and media. Gift bags (worth over $100) for the first 50 guests at the event. Midnight Champagne toast for all VIPs. Specialty dessert served after Midnight.
After Midnight Access
Admission granted after 12 AM only (non VIP area). Party till 2 AM. Must be in proper attire. Management reserves the right to deny admission if proper dress code is not met. Bar last call is 1 AM.
You Could Win Free Tickets to our next BIG EVENT!
♣♣ DRESS CODE: Black Tie optional. Gentlemen– tuxedos or suits. Jackets are required. Ladies – evening dresses or ball gowns. No jeans, t-shirts, or inappropriate attire. It is strongly recommended that you dress to match the theme – Bond, Bond Girl, villain, sexy spy, etc.
♣♣ ABOUT THE SYNERGY EVENTS: The SYNERGY Events (Boston, NY, Paris) produces upscale themed events that allow high-end guests to mingle, meet and experience unique gatherings through eclectic music, fashion and ambiance. These events are exclusive and distinct, just like our market, because we provide an atmosphere unlike any other. Our events have been covered by Boston Globe, Boston Common, Improper Bostonian, Boston Magazine & many other online and print publications. We are the leader in creating an unforgettable time for our guests. Join us!
♣♣ GOT A QUESTION? Call the SYNERGY Box office at: 617 752 1945 or email contact@theSYNERGYevents.com.
♣♣NOTE:

THIS IS A 21+ EVENT.

Event Starts at 8:30 PM and Ends at 2 AM


CASH BAR ONLY. ATM MACHINE AVAILABLE IN THE HOTEL LOBBY.

MUST SHOW STATE ISSUED ID, DRIVER'S LICENSE OR PASSPORT FOR ADMISSION.
Ladies and gents, who do you want to dress up as at the event? Don't forget that the best dressed male and female win fabulous prizes.
THERE ARE NO REFUNDS! ALL SALES ARE FINAL!

SAMPLE INTERNATIONAL DANCE HITS & HIPHOP YOU WILL HEAR AT THE PARTY:
Timeless 2012 – Classic House and Hiphop Mix/Mashup by SYNERGYBoston
By purchasing tickets, ticket holder (and/or) guest(s) agrees to indemnify and hold harmless producer, facility, and representatives of the same, for all claims by guest, guest agents, employees, contractors, or by any other person, arising out of any act or omission in any way related to guest's attendence of the event. Guest waives, without limitation, all claims for damage, destruction, loss or theft, personal injury and any other act or failure to act of producer.

James Bond, the ultimate "ladies man," was involved with some of Hollywood's sexiest women. A Bond film simply would not be a Bond film without the presence of one of the agent's countless "Bond Girls," who were not only there to provide sex appeal and a romantic interest for James; many of these women were independent and fierce agents themselves and assisted in the never-ending tasks of fighting some serious villains.
This December 31, join the SYNERGY Events at our fourth annual Timeless New Year's Eve party- A Bond Evening- at the Marriott Hotel in Downtown Boston (http://www.synergynye.com/) and meet today's Bond Girls. This upscale event is inspired by the glamour of James Bond's old Hollywood and will transport you to a time of utmost sophistication and mystique. The event will feature a red carpet entrance with professional photographers capturing your best moments, SYNERGY spinning pop, Euro House, Arabic House, Top 40 and hip-hop, a midnight fashion exhibit featuring exquisite couture creations, champagne toast at midnight as we count down with New York City via real time connect and much more.
Ladies, are you a classic beauty like Honey Ryder, or a sexy undercover agent like Jinx? Channel your inner Bond Girl and spend an evening in pure refinement as your alter-ego. Who knows? You may even find your own charming James Bond.
Don't know which Bond Girl you most embody? Here's a look at our top 5, and ways you can take their looks into the New Year.
Honey Ryder
Honey Ryder, played by Ursula Andress, is remembered as the original "Bond Girl," arriving on the scene in Dr. No in 1962. Honey is independent, courageous, and for the most part remembered for her controversial wardrobe and sultry entrance; walking out of the ocean wearing just a miniscule white bikini.
Get her simple look with Lauren by Ralph Lauren white gown (shown below), accessorized with a shell bangle and sequin shell clutch.
Pussy Galore
Pussy Galore is James Bond's feminist pilot in Goldfinger (1964). Played by Honor Blackman, she is a resilient martial arts expert and describes herself as "immune" to Bond's charms. Her name raised eyebrows when the film was first released, but her robust personality and skillfulness in the pilot seat earned her the respect and admiration of men and women alike.
Get Pussy Galore's look by pairing this simple French Connection metallic dress with sexy black accessories and Louboutins for an outfit that is the opposite of girly, just like Galore.
Tracy Di Vicanzo
Tracy Di Vicenzo, played by Diana Rigg, is the only Bond Girl to actually fall in love and tie the knot with the suave spy. She enters the scene as a bit of a loose cannon, attempting to commit suicide by walking into the sea. Tracy evolves throughout the film, however, and becomes an adventurous and daring woman who captures Bond's heart.
Get this romantic Bond girl's look with this ivory Sue Wong drop waits beaded evening gown and Louboutins.
Giacinta "Jinx" Johnson
Jinx, played by Halle Berry, is a rare match to James Bond's talent. She is a secret agent in Die Another Day (2002) and makes it known that she possesses equal, if not greater talent than Bond, as she works alongside him to kill the villain, Zao. Jinx is not only skilled, she is also independent and intelligent and rivals Bond's every attribute.
Get Jinx's fierce, sultry look with this leather-embellished dress and leather stilettos.
Vesper Lynd
Vesper Lynd, played by Eva Green in 2006's Casino Royale is a mischievous Bond Girl who manipulates the hero. The beautiful and shrewd agent dies a tragic death at the end of the film, however, and her true identity as a double agent is revealed, leaving Bond with a feeling of betrayal and mistrust for all women.
Channel Vesper Lynd in this elegant and romantic violet ensemble, and embellish yourself in sparkles to catch your own James Bond!
The SYNERGY Events
http://www.theemergingtrends.com
http://www.bostonfashionnight.com
http://www.SYNERGYNYE.com
http://www.thesynergyevents.com
Print ad is dead!: http://www.thesynergyevents.com/paper/Print_Ad_is_Dead.pdf
Facebook: http://www.facebook.com/SYNERGYBoston
Twitter: http://www.twitter.com/SYNERGYBoston